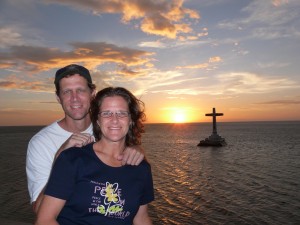 Christmas Greetings December 2010
Hello Everyone!
This is the time of year when the values we live by, all year round, are expressed in clear and meaningful ways. These values are centered on JESUS (the reason for the season) and on the PEACE he brings ("…peace on earth to those with whom God is pleased." Luke 2:14 NLT)
Listen to the words of others who clearly understood the IDENTITY OF JESUS that caused them to serve God accordingly.
THE ANGEL GABRIEL: "Don't be afraid, Mary…you will conceive and give birth to a son, and you will name him JESUS. He will be VERY GREAT and will be called THE SON OF THE MOST HIGH. The Lord God will give him the throne of his ancestor David. And he will reign over Israel forever; HIS KINGDOM WILL NEVER END! …The Holy Spirit will come upon you, and the power of the Most High will overshadow you. So the baby to be born will be HOLY and he will be called THE SON OF GOD." Luke 1:28-35
ELIZABETH to MARY: "God has blessed you above all women, and YOUR CHILD IS BLESSED. Why am I so honored that the mother of MY LORD should visit me? You are blessed because you believed that the Lord would do what he said." Luke 1:42-45
MARY: "Oh how my soul praises THE LORD. How my spirit rejoices in GOD MY SAVIOR! …For the MIGHTY ONE is HOLY… He shows mercy from generation to generation to all who fear him. His mighty arm has done tremendous things!" Luke 1:47-51
ZECHARIAH: "Praise the Lord, the God of Israel, because he has visited and redeemed his people. He sent us a MIGHTY SAVIOR from the royal line of his servant David, just as he promised through his holy prophets long ago… We have been rescued…so we can serve God without fear, in holiness and righteousness for as long as we live." Luke 1:68-75
SIMEON: "Sovereign Lord… I have seen your SALVATION, which you have prepared for all people. He is a LIGHT to reveal God to the nations, and he is the GLORY of your people Israel!" Luke 2:25-32
PETER: Answering Jesus' question, "But who do you say I am?" Simon Peter answered, "You are the MESSIAH, the SON OF THE LIVING GOD." Matthew 16:13-16 (Messiah means Deliverer, Savior).
Looking back, we thank God that these Truths have been received and are being practiced by many disciples in house church fellowships in the Philippines. We continue to hear reports on Facebook of new Bible studies, new believers & baptisms, and growing fellowships.
Looking ahead, God is clearly leading us toward Indonesia, to keep on doing his work of making disciple-makers of Jesus and grouping them into organic local fellowships that can reproduce on the grass-roots level. Lord willing we hope to leave by September 2011 to begin language study on the island of Java in Indonesia. Thanks for serving God together with us, in order to EXperience, EXpress, and EXpand the Lord Jesus Christ (EX3-our missional strategy), through His Church, to the ends of the earth, for God's glory and pleasure!! Ephesians 1:3-5,9-10,12-13,22-23; 3:6-11,20-21
Jon, Sherri, Ellie, Ethan, and Adam Lunow