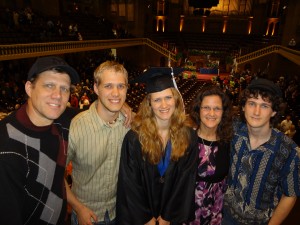 What a delight to celebrate, as a complete family, Ellie's graduation ceremonies from Moody Bible Institute at the historic Moody Church in Chicago! It's been a great year, traveling almost coast to coast, speaking in new churches, visiting many dear supporters and family members, plus enjoying some rest and preparation time.
We now have visas in hand to do language study in Indonesia, plus the money needed to secure our housing rental in Bandung (thanks for the prayers & gifts!); and we look forward to our fast approaching departure date from Michigan—June 20th (via Texas, Philippines, then Indonesia mid-July)!
Because of the generous provision of some dear friends, our kids can stay on one more year in the Michigan furlough house we've been living in. Ellie works as a teller at the local bank and is enjoying this job. Her boyfriend, Tyler, continues to study at MBI in Chicago, and they are seeking God's wisdom and timing for their future, together. Ethan is now a senior at JBU in Arkansas, and also an RA for one of the town house dorms. He too is looking ahead for God's wisdom & provision of graduate school studies in 2012. Adam must complete two more years at Baker College of Jackson to finish his program. The boys haven't been able to secure "summer jobs" but they do have part-time work on campus during the school year, plus decent financial aid to help them get through college, for which we are grateful.
After getting settled in Bandung, Indonesia, we'll send out our new contact information. We appreciate your continued prayers as we learn the language and connect with people in order to expand the Lord Jesus Christ with his love & forgiveness—Christ's love urges us on (II Cor. 5:14-21)!
Jon & Sherri Lunow
jonlunow1@mac.com / kids at: 6928 Grand River Rd Rives Jct MI 49277