January 2017
Posted by lunow
May 3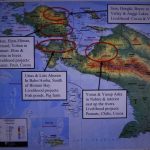 Selamat Hari Tahun! Happy New Year 2017 from us Lunows here in Manokwari, West Papua, Indonesia!
ADDRESS TIDBITS… Manokwari, located above, in the top red circle, on the right side where the arrow is pointing. Yes, our address remains: D/A Jln Wajib Senyum no. 7 / Perumahan Dokter Sowi Gunung / Manokwari Papua Barat 98315 INDONESIA, however having an address does not equal receiving mail! We've been informed that International Flat Rate Boxes with bar code and tracking# travel best. A postal worker encouraged us to have senders take photos: 1) bar code & label on the package (before you go inside to mail it as our daughter learned no photos allowed inside!), 2) tracking# on the receipt, 3) send photos to us for the info (Email/Facebook/WhatsApp). He also said standard letters sometimes make it to Manokwari, sometimes get lost in Jakarta, no one can predict.. If you send something, let us know..
BAHAM TRIBE… Thanks to all who are praying for this people group, located in the third red circle down from the top, inside the left half and below. These are the tree people Jon/Urias/Elimas surveyed last year, whom we understand to be without a witness of God's Word, either written or spoken. Translators and missionaries are needed, the Sougb people are willing, more research and additional contacts still required. Last half of March we plan visit the Bomerai Peninsula with Urias, Lois, Elimas in their home-ministry locations of Babo and Aroba (inside top right of 3rd circle), plus Baham areas as allowed.
COFFEE TREES… The latest addition to the Sougb Missionary livelihood projects is a new strain of successful coffee trees from Sumatra, East Indonesia. Praise God for our 2 Papuan friends with neccessary connections and knowledge, one providing the contact person and seed purchase, the other (who is with the Dept of Agriculture) is providing the training this coming February regarding planting/growing/harvesting.
CORNELIUS COMMUNITIES… Please keep praying with us for open hearts and homes (see Acts 10).
Thanks for your partnership in Christ, to know Him and to make Him known! –Jon & Sherri Lunow-
Support gifts to PowerSurge Worship Ministries 22 Hemlock Dr. Franklin NJ 07416 (201-230-9755)
Email: jonlunow1@mac.com Jon's cell: +6281316785706 Sherri's cell: +6282113641719